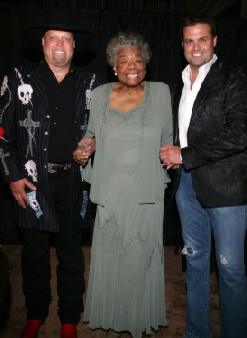 Unique Lives & Experiences hosted 'An Evening With Dr. Angelou' on Monday, May 21st in Nashville, Tennessee at TPAC's Jackson Hall featuring her friends country music duo Montgomery Gentry.
The evening opened with a special performance from the Jubilee Singers, followed by a collaborated effort with the performance of "Some People Change," where duo
Eddie Montgomery and Troy Gentry
were joined by the Singers for a memorable and moving performance.
Dr. Angelou originally heard "Some People Change" and its powerful message in 2006 when she caught a glimpse of their video for the single. The imagery in the video features a man standing up to racial prejudices. Prior to taking the stage for the performance the duo joined Dr. Angelou backstage.
"Dr. Maya Angelou is an inspiration I am honored to have shared a moment in time with," says Gentry. "Her presentation is a life experience that no one should live without!"

"When I listen to Montgomery Gentry they are young men I can claim as my sons--they don't know that, but it's alright," said Dr. Angelou.
The evening concluded with a second standing ovation for the Renaissance woman, a true testament that she truly is one of the great voices of contemporary literature.
"What an incredible night," Eddie commented after the show. "You can just feel the energy around Dr. Angelou, and there is no doubt in my mind, before I meet the man upstairs, Dr. Angelou will be the first one to greet me with open arms. I will never forget that moment!"
Media Contact:
Webster & Associates Public Relations: 615.777.6995 (Kirt Webster or Ebie McFarland).
Press images available by visiting
www.websterpr.com