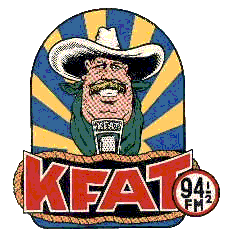 Have you ever had a competitor you so admired that you listened to their radio station not just to play defense but because you simply loved it? That was me, back in the days when I worked at
AM 1370 Radio KEEN, in San Jose
. Our 'real' direct country competition was
Metromedia's KNEW-AM, Oakland
. Yes, those were the days, three decades ago, when AM radio got the big audience shares.
Yet, there was
this amazing little FM in Gilroy
that even showed up in the San Francisco book. They played everything from Billy "Crash" Craddock to Billie Holiday.
Emmylou Harris
loved it too. She was a core artist on my station and yet she was quoted more than
once as saying that she wished she owned KFAT
.
I felt the same way. It was a station with unique character and values at a time when the rest of us barely knew that those things had a role in branding a radio station. My hope today is that
Laura Ellen
knew I felt that way. I let her know I was a fan, both of her on the air and also of her crazy quilt creative brand of 'progressive country,' but now I hope she knew how serious I was. Sadly, I'll never find out now.
She's gone
(incredibly, at age 57!) and I am going to be among the folks who'll miss her a lot.
"Laura Ellen was the heart, soul and glue of KPIG. Losing her is like losing an old-growth redwood tree."

-- Sleepy John" Sandidge, a longtime KPIG on-air personality and friend

Hopefully she knew that too. I'd bet that St. Peter is helping her fill out an application for a new radio station in the great FM band in the sky right now.