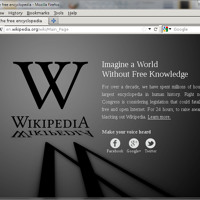 "The only time I download anything on iTunes is in the rare case that I can't find it on Spotify."
- Sam Broe in today's New York Times article,
"As Music Streaming Grows, Royalties Slow to a Trickle"
Meanwhile, last weekend, Seattle radio reporter
Joshua McNichols
wrote for his in-depth report
"The Day The Internet Went Dark And How It Changed History:"
"A little over a year ago, Wikipedia, Google and thousands of other websites went dark. They were protesting an Internet privacy act being considered in Congress. It was the largest protest ever conducted on the Internet. And it worked.

"One of its organizers was Aaron Swartz. Swartz advocated for the Internet to be free. His quest for free information got him in trouble. He was caught trying to leak academic papers to the public. The US Department of Justice tried to make an example out of him. But he committed suicide."
"Stealing is stealing whether you use a computer command or a crowbar."
-
Federal prosecutor Carmen Ortiz
Hopefully, these strong characters and their compelling story lines will engage you to spend the time to
read the NYT article
and then
listen to McNichols' entire well-balanced radio report
chronicling the complicated media revolution now underway.
Swartz wanted what he termed "legacy media" to abandon long standing financial models and - as he did - exploit the internet to find new business approaches.
At one time I would have said "he has nothing to lose and everything to gain" by embracing open source for fun and profit," while those of us owning businesses holding intellectual property with established revenue streams much larger than new media can equal don't have that luxury.
How sad that it came down a matter of life and death for a brilliant young man.