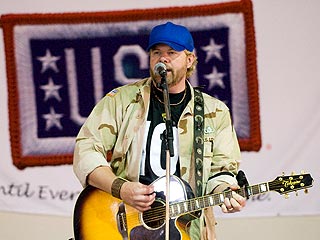 People's Eileen Finan broke the story
: TK and his USO tour troupe encountered mortar fire while they were performing in Afganistan.
Keith, on an 18-show USO tour through the Persian Gulf, was right in the middle of his song "Weed With Willie" when
mortar fire on the base interrupted him Thursday night
.
"We all ran about 100 yards to a concrete bunker," says Keith's agent, Curt Motley, who is also on the USO tour. Keith, 46, and his band hunkered down with the soldiers in a bunker about an hour, signing autographs and posing for shots to pass the time.

Ask anyone who has spent quality time with him: Keith does this dangerous duty because of his tremendous respect and admiration for the job our troops are doing.