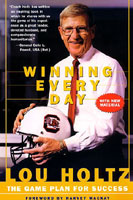 Lou Holtz, the motivational miracle worker who revitalized the Notre Dame football program by leading the legendary Fighting Irish to nine bowl games and a national championship wrote this book in 1999. I just picked it up in paperback and recommend it to you in the event you have people working with you who talk a good game but fail to put their intentions into action.
During his twenty-seven years as a head football coach, Holtz garnered a 216-95-7 career record. Each new assignment brought a different team with different players, but, invariably, the same result--success. How did he do it? By designing a game plan for his players that minimized obstacles while maximizing opportunities.
Holtz's Game Plan for Success:
1. Every Victory Is Won Before The Game Is Played: The Power of Attitude
2. The Best Part Of Getting Knocked Down Is Getting Back Up: Tackling Adversity
3. Putting the Why Before the Where or What: Create A Sense of Purpose
4. Getting Game-Ready: Make Sacrifice Your Ally. You Have To Give Up Something To Get Something
5. Adapt or Die: The Perils of Being Number One. Attack Yourself.
6. Run for Daylight: Competing on Your Field of Dreams Means They Are All Chasing You
7. You Are What You Think: Nurturing Your Self-Image
8. Can I Trust You? This Is Not Automatic. Leaders EARN Trust.
9. Are You Committed to Excellence? Lou Himself Is A Example Of The Kind Of Self-Discipline It Takes
10. Do You Care About Me? Actions Speak Louder Than Words - Do Your Coworkers KNOW You Care As Much About Them As You Do Yourself?
"Your talent determines what you can do. Your motivation determines how much you are willing to do. Your attitude determines how well you do it."-- Lou Holtz