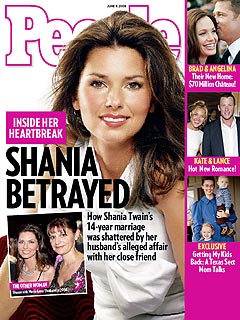 Shania Twain
's close friend and longtime assistant is finally speaking out – and denying reports she's behind the singer's surprise split from her husband of 14 years, PEOPLE reports in its new issue.
Speaking publicly for the first time since the news of the alleged affair became public, Marie-Anne Thiébaud, 37, told PEOPLE, "You cannot believe everything you read in the press." When asked directly if she had an affair with Twain's husband, music producer Robert "Mutt" Lange, she replied, "No."
That contradicts several sources close to the situation, who say Thiébaud and Lange left their spouses for each other and continue to maintain a romantic relationship. Twain, 42, and Lange, 59, who have a 6-year-old son, Eja,
announced their separation
May 15. Since then, the "You're Still the One" singer – "devastated" by the revelations, according to sources – has sought refuge with family in her native Canada.
--
Alexis Chiu in People