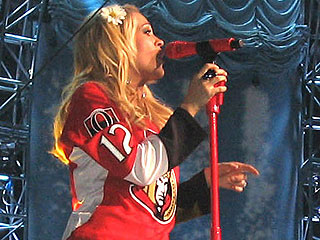 From one of Nashville's PR houses yesterday
:
Carrie Underwood has kicked the sexy factor up a notch with her on-stage costumes on her new Play On tour, with things like a spandex catsuit and other form-fitting ensembles. Her stylist recently shared some of the scoop on how the wardrobe came together with People Country. Carrie enlisted the help of

Soyon

An, who is one of the costume designers for American Idol and So You Think You Can Dance. While some people might think some of the outfits are a bit bold for Carrie,

Soyon

says, "She's very fashion forward and very open to different types of clothing. She

wasn

't intimidated at all–she was ready for it. It's a tough look but it's her attitude–and obviously she's got the body for it."
Fortunately,
as the People photo shows
, there's a lot more to Carrie, who famously took a busload of radio people bowling at last year's
CRS
and the folks who went with her know that she's not all that "fashion forward" when off stage.
Has there ever been a superstar country female who got there accenting her "sexy factor?"
Yet, as
Tom T. Hall pointed out as far back as 1969
, show biz is all about "
puttin
' up a front" and that she more than does (to the second power!).